The 'Legendary Yezdi' is back, and how!
Yezdi Motorcycles – the motorcycle brand name that signifies thrill, adventure and free-spiritedness like no other is back to the fore, promising even more for riders across generations, old and new alike.
Classic Legends, today, is proud to announce the launch of three all-new Yezdi models: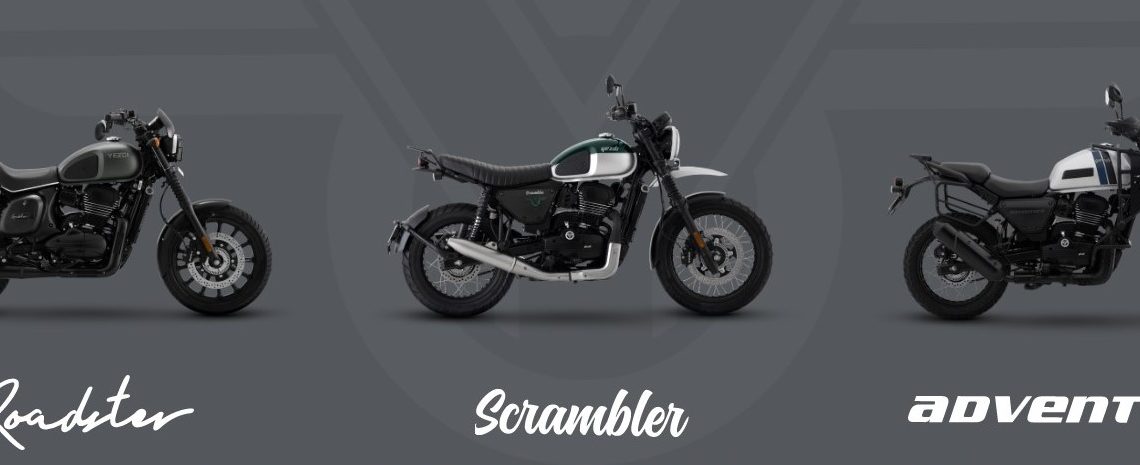 Yezdi Adventure
Yezdi Scrambler 
Yezdi Roadster 
Although they sport very distinct personalities but come with a common soul.
They are an ode to the brand's true spirit and an embodiment of everything that Yezdi stood for, and more. The new range of Yezdi motorcycles will be available across Classic Legends' dealership network, which already retails Jawa Motorcycles, in India for viewing, test rides, bookings and deliveries starting today.
Customers can book their favourite Yezdi online at www.yezdi.com  for just INR 5,000 only.
Packed with modern technology and retro styling cues, the new generation of Yezdi motorcycles come
powered by a liquid-cooled, fuel injected, DOHC single cylinder engine displacing 334cc but tuned
differently to suit the persona of the motorcycle it is mounted in (details mentioned later).
The Adventure range starts at INR 2,09,900,
Scrambler range starts at INR 2,04,900 and
Roadster range starts at INR 1,98,142
all prices ex-showroom, Delhi.
Speaking on the new Yezdi Motorcycles, Anupam Thareja, Co-Founder, Classic Legends said,
""It is not every day that you get to celebrate the comeback of an iconic motorcycle, let alone the likes of a
legend like Yezdi. While its spirit lived on through its die-hard community and in the mind and hearts
of every rider, the anticipation to see it take over the Indian roads again, has been unbelievable. We
have the legacy but now we will create our own lineage. Being a motorcyclist myself, this is a moment
of catharsis. As custodians of the brand, we made sure that we preserve and celebrate Yezdi's and the
Yezdi rider's essence in these new avatars. I am sure every Yezdi lover, will feel that – designed with
passion and indulgent beliefs, then engineered to purpose, to make you fall in love with this motorcycle
and motorcycling, again!"
Adding to this, Boman Irani, Co-Founder, Classic Legends said,
"The Yezdi brand is all about stories and emotions. That's what has kept it alive, and this is exactly what we want to build on for the future. The new Yezdi motorcycles are not just motorcycles, but a way of life. They're a medium for riders to go out there, create more memories and have unparalleled fun while doing so. It is a never ending
adventure that has just gone to the next level!"
Speaking on the new models, Ashish Joshi, CEO, Classic Legends, said,
"The biggest challenge for us while developing the new Yezdi motorcycle(s) was to keep the spirit intact. We also knew that the motorcycle riders have evolved over the last few decades and followed a very focussed approach. What
you see now are three motorcycles 'purpose-built' for rider requirements across the spectrum. We have always been about redefining the Modern Classic segment in the country and have gone ahead and did just that." To amp up the lifestyle quotient and complement the applications they're built for, each Yezdi model will also come with its own range of accessories, carefully curated to enhance the visual appeal and functionality for the rider. The accessory range will also be available across dealerships.
Why three Yezdi models?
Because why not! When bringing such an iconic brand back, we thought, why not go the whole hog
and give the lovers of the brand everything Yezdi stood for – The spirit of adventure, the spirit of
unapologetic fun & the spirit of thrill! The Yezdi Adventure, Yezdi Scrambler & Yezdi Roadster are
manifestation of that quintessential Yezdi spirit.
Yezdi Adventure:
Starting with the Yezdi Adventure, it's our quintessential touring machine. One look at it is enough to
send you in a transformational journey. Authoritative in its personality and Assertive in its
performance, the Yezdi Adventure is designed to fulfil every requirement of a long-distance rider. Be
it the "serious off-roader" styling, comfortable ergonomics, surefooted handling across all terrain and
host of rider aids, this motorcycle is built for you to tick every destination and riding trail on your
bucket list!
The high placed mud-guard and the knuckle-guards keep the rider secured from any pebbles that
might fly your way, while the chassis mounted front cage, made of heavy duty steel, offers added
safety as well as flexibility to carry extra fuel utilizing the accessory fuel jerrycans.
Keeping in mind the long rides it is built for, the Yezdi Adventure comes with a host of mounting
points and hooks for carrying luggage. Be it strapping a backpack on the rear seat or mounting the
optional hard panniers with their own mounting stays, this motorcycle comes prepared to carry
everything you might need on your long ride.
The Adventure is powered by a liquid-cooled, fuel injected, DOHC single cylinder engine displacing
334cc. Here, it produces max power of 30.2PS@8000rpm & max torque of 29.9Nm@6500rpm.
Mated to a six-speed constant mesh transmission, the engine is tuned for torquey mid-range for trail
riding while developing great top end power for high-speed highway cruising.
The adventure features an all-new chassis, suspended on a unique mono-shock swing arm set-up at
the rear and long travel telescopic forks, which gives it an edge over off-road as well as on tarmac,
the result is superb handling across various terrains. Despite being a tall motorcycle, the Adventure
is surprisingly nimble around corners too.
Braking is taken care of by disc brakes on both ends and dual channel ABS by Continental, with three
switchable modes – Road, Rain & Off-road for a more flexible performance.
While retaining its classic identity, the Adventure also is chock-full of interesting, usability features
that make the riding experience optimal. The Adventure comes with USB charging capability and
Bluetooth connectivity to ensure the user's smartphone is utilized throughout the ride. With its own
mobile app, the system is also capable of displaying turn-by-turn navigation on the integrated
TFT/LCD display. The display is also adjustable for better viewing angles while also featuring a trip navigator, a gear indicator, a side-stand indicator and a clock. The speedo also features a Distance to
Empty and an Average Fuel Economy dial for better fuel management.
The Adventure also has its own range of specially curated accessories that can be added on to the
machine, to enable the rider to customize it as per their liking. There are options to add knuckle
guards, jerry cans with mounting brackets, panniers, top box, fog lamps, crash guards, a headlamp
grille – all available as additional accessories.
The Yezdi Adventure will be available in the following three colours at given prices, ex-showroom
Delhi:
Slick Silver INR 2,09,900
Mambo Black INR 2,11,900
Ranger Camo INR 2,18,900
Yezdi Scrambler:
The Yezdi Scrambler, embodying the spirit of unapologetic fun, is the perfect motorcycle for a modern
day thrill seeker with great performance for daily trips and adaptable enough to make off-roading a
breeze. A motorcycle made to satiate your desires for bursts of serious trail riding on the weekends
and snaking through traffic on weekdays, the Yezdi Scrambler makes everyday fun. The Scrambler's
styling is dripping of mischief with a typical scrambler flyline – simple seat with a classic round tank,
tucked in Headlamp along with an offset speedo pod, Upright / commanding handlebar position,
typical scrambler twin exhausts, on/off road tyres along with a front fender beak give a distinct
character to the machine.
The scrambler produces 29.1PS@8000rpm of peak power & peak torque of 28.2Nm@6750rpm and a
flat torque curve, so that you have a meaty torque spread across the rev range.
The scrambler is tuned for mischief. It comes with telescopic forks at the front & gas charged twin
shocks at the rear. With a short wheelbase of 1403mm, the motorcycle is packaged for fun riding &
sliding through those scrambling trails. The frame enables quick manoeuvres & confident handling
across terrains. The precision handling of the scrambler ensures that it never misses the mark.
Braking too is top of the line with disc brakes on both ends and dual channel ABS by Continental, with
three switchable modes – Road, Rain & Off-road for a more flexible performance. The headlamp,
taillamps and blinkers are all equipped with LED while the digital speedometer has several features
that make it a much more equipped and relevant riding experience.
The Yezdi Scrambler will be available in the following six colours at given prices, ex-showroom Delhi:
Fire Orange INR 2,04,900
Yelling Yellow INR 2,06,900
Outlaw Olive INR 2,06,900
Rebel Red, Mean Green, Midnight Blue (Dual Tone) INR 2,10,900
Yezdi Roadster
The Yezdi Roadster completes this trio adding thrill to your everyday ride. Endowed with sheer road
presence and muscular dimensions, the Roadster is a uniquely styled motorcycle with a perfect
blend of classic style and modern touches. The motorcycle boasts an elegant silhouette with its
visual weight spread across the design giving it a muscular and planted character.
Comfortable split seats embellished with a stark chrome arc highlights the seat line while a compact
headlamp and tightly packaged engine area lend solidity to the overall design. Alloy wheels along
with fat tyres, flanked by chopped fenders add to the beefy looks. There is a digital speedometer at
the head of the motorcycle while the headlamps and the indicators are LED for better illumination of
the road ahead.
Sporting a similar engine capacity and transmission, the Roadster delivers peak power of
29.7PS@7300rpm & peak torque of 29Nm@6500rpm. The result is a machine that delivers gushing
performance in the city and dominates the highway.
The roadster features a dual cradle chassis, which is tuned to offer great on road
mannerisms & offers great stability on straight line as well as superior cornering abilities.
The motorcycle also comes equipped with dual channel ABS by Continental – class leading
technology that makes the braking experience an absolute joy with an optimum amount of bite in
the disc brakes.
The Yezdi Roadster will be available in the following five colours, spread across the Dark & Chrome
themes at given prices, ex-showroom Delhi:
Roadster Dark – Smoke Grey  INR 1,98,142
Roadster Dark – Steel Blue INR 2,02,142
Roadster Dark – Hunter Green Roadster Chrome – Gallant Grey INR 2,06,142 
Roadster Chrome – Sin Silver INR 2,06,142
Detailed Specifications:
YEZDI ADVENTURE
ENGINE
Type
Single cylinder, 4 Stroke, Liquid Cooled, DOHC
Capacity
334 cc
Compression
11:01
Bore Stroke
81 x 65 mm
Max Power
30.2 PS
Max Torque
29.9 Nm
Fuel System
Electronic Fuel Injection
Exhaust
Single side Exhaust
Gear Box
Constant Mesh 6 Speed
CHASSIS
Frame
Double Cradle
Front Tyre
90/90 – 21"
Rear Tyre
130/80 – 17"
Front Suspension
Telescopic Fork & Coil spring
Rear Suspension
Mono shock absorbers with coil spring & linkage mechanism
Front Brakes
Dia 320mm Disc with Floating Caliper and ABS
Rear Brakes
Dia 240mm Disc with Floating Caliper and ABS
DIMENSIONS & WEIGHT
Wheel Base
1465mm
Ground Clearance
220mm
Seat Height
815mm
Weight
188kg
Tank Capacity
15.5 litres
YEZDI SCRAMBLER
ENGINE
Type
Single cylinder, 4 Stroke, Liquid Cooled, DOHC
Capacity
334 cc
Compression
11:01
Bore Stroke
81 x 65 mm
Max Power
29.1 PS @ 8000rpm
Max Torque
28.2 Nm @ 6750rpm
Fuel System
Electronic Fuel Injection
Exhaust
Twin Exhaust
Gear Box
Constant Mesh 6 Speed
CHASSIS
Frame
Double Cradle
Front Tyre
100/90 – 19"
Rear Tyre
140/70 – 17"Front Suspension
Telescopic Fork & Coil spring
Rear Suspension
Twin shock absorbers with gas canister
Front Brakes
Dia 320mm Disc with Floating Caliper and ABS
Rear Brakes
Dia 240mm Disc with Floating Caliper and ABS
DIMENSIONS & WEIGHT
Wheel Base
1403mm
Ground Clearance
200mm
Seat Height
800mm
Weight
182kg
Tank Capacity
12.5 litres
YEZDI ROADSTER
ENGINE
Type
Single cylinder, 4 Stroke, Liquid Cooled, DOHC
Capacity
334 cc
Compression
11:01
Bore Stroke
81 x 65 mm
Max Power
29.7 PS @ 7300rpm
Max Torque
29Nm @ 6500rpm
Fuel System
Electronic Fuel Injection
Exhaust
Twin Exhaust
Gear Box
Constant Mesh 6 Speed
CHASSIS
Frame
Double Cradle
Front Tyre
100/90 – 18" Tubeless
Rear Tyre
130/80 – 17" Tubeless
Front Suspension
Telescopic Fork & Coil spring
Rear Suspension
Twin shock absorbers with gas canister
Front Brakes
Dia 320mm Disc with Floating Caliper and ABS
Rear Brakes
Dia 240mm Disc with Floating Caliper and ABS
DIMENSIONS & WEIGHT
Wheel Base
1440mm
Ground Clearance
175mm
Seat Height
790mm
Weight
184kg
Tank Capacity
12.5 litres
Facebook: https://www.facebook.com/yezdiforever
Twitter: https://twitter.com/yezdiforever
Instagram: https://instagram.com/yezdiforever